Recognizing and meeting the needs of their customers has long been a focus of Soderholm Sales, and as Hawai'i makes a push for 100% clean energy by 2045, Soderholm also recognizes the need to help transform the transportation sector here in Hawai'i. 
Almost two-thirds of petroleum use in Hawai'i comes from transportation, and with heavy fossil fuel use comes greenhouse gas emissions. Widespread use of electric vehicles (EVs) will play a key role in reducing our reliance on petroleum and reducing emissions. Soderholm plans to contribute to this transition by pursuing electric vehicle conversions that eliminate emissions from the old engine and prevent unnecessary waste by repowering the body of an older vehicle. Soderholm has been exploring electric conversions on transit vehicles with the help of Colorado-based company Lightning eMotors.
"My dad loves telling this story," Gabi said. Erik Soderholm, Co-Founder and Vice President of Soderholm Sales, was first introduced to Tim Reeser, CEO of Lightning eMotors, at a bus conference about ten years ago. At the time, Lightning eMotors was just doing hybrid vehicles. Fast-forward nine years, Erik found out Lightning eMotors was doing full electric and decided to reintroduce himself. Before they knew it, Tim was on his way to Hawai'i to meet with the Soderholm team. "Within a week, we were signed up as their dealer in Hawai'i and the Pacific," Gabi said.
Soderholm recently completed the first Lighting eMotors conversion outside of Lightning's Loveland location. The process began when Soderholm identified a transit van as a perfect candidate for conversion. "We decided this was a great chance to do a pilot vehicle with Lightning. So, we bought the kit from Lightning, and they sent it out," Gabi explained. "Our team took out the engine and did most of the grunt work getting it ready."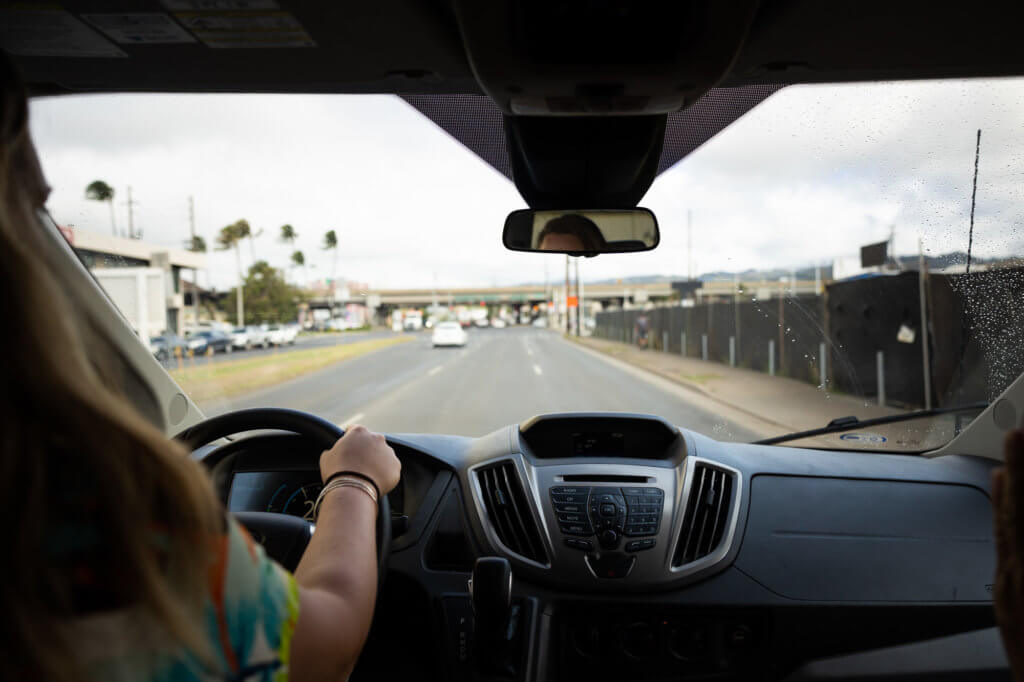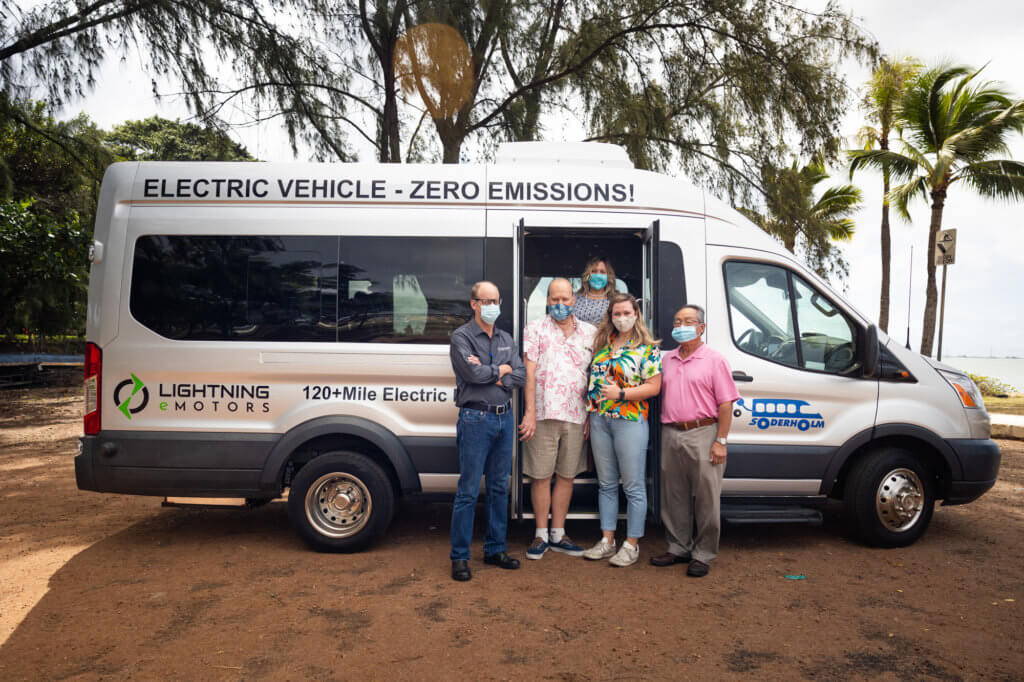 Lightning later sent a team of three engineers to help install the kit and get the vehicle running. The conversion took about four months, partly due to delays in getting parts during the pandemic. The vehicle was completed and taken on the road for the first time on October 8, 2021. "I can't even explain how hyped I am about it," Gabi exclaimed. "We did it in four months. Once we get more dialed in, we can do one a month. Or one every two weeks. You can't order buses that fast."
This is the first EV on Oahu between a 40-foot transit bus and a passenger car, and Soderholm Sales has no intention of stopping now. Instead, they are looking to get involved with more electric conversion projects across the islands. Repowering older vehicles with electric motors would reduce emissions, waste, and cost, but there's more to it than just replacing the engine. 
Electric conversions have great potential to make Hawaii's transportation more sustainable, especially in the medium to heavy-duty segment. "Every vehicle is going to take a lot of manufacturing. There's going to be waste. That's almost unavoidable. What we're trying to do with these conversions is avoid as much of that waste as possible," Gabi said. 
Gabi's work aligns well with her interests since she has developed a passion for the environment outside of her job. "I am an environmentalist in my personal life. I want to see the earth survive another generation. This is something that I care so deeply about that it really helps in my work life because I'm already dialed in with a lot of these issues," Gabi said.
Soderholm Sales plans to continue to contribute to Hawaii's clean energy future and electrify Hawaii's transportation.